Richard "Ozzie"
Osbourne

Fletcher

    

1833 - 1864

Born:  December 24, 1833 in Grosses Coques, Nova Scotia.

Died:   April 1, 1864 in Maroochydore, Queensland, Australia

Spouse:  Luisa Wilhelmina (Krige) Fletcher, married October 24, 1853, Patryskloof, South Africa.

<![if !vml]>

<![endif]>
(Click here to see the entire document.)
Children:  None        
Father's name:  Richard Fletcher    Birth place:  possibly Shelburne, Nova Scotia
Mother's name:  Mary (Hanselspiker) (Bain) Fletcher      Birth place:  possibly New Jersey, America
Siblings:         George S. Fletcher   (This link will return you to Fannie (Dane) Fletcher's page.)
It appears that Richard Osbourne Fletcher, who apparently preferred to be called Ozzie to distinguish himself from his father and grandfather, was one of those unfortunate individuals that lived close to fame or greatness, but never really achieved it for himself.  Family oral history says that he was born while his parents were travelling from Yarmouth, Nova Scotia to Digby to enjoy Christmas with his mother's family.  After crossing over the Metaghan River, his mother went into labor and gave birth after they were through the woods by Grosses Coques, roughly 20 miles short of Grandma's house.  Grosses Coques is in Acadian country and is rich in history.  Please see this Taste the World website for some insight into the Acadian culture.
His parents are noted as Richard and Mary Fletcher.  This was Mary's second marriage, the first being to George Bain.  George Bain and Mary Hanselspiker were married in Digby, Nova Scotia on June 5, 1808.  I cannot determine if Mary was the daughter of Conrad or William Hanselspiker.  Both lived in Digby and both had a daughter named Mary.  The Hanselspikers were Loyalists and moved to Nova Scotia after the Revolutionary War where they had fought on the British side.  They lived in New Jersey during the war.  Richard Fletcher may be related to Dr. Richard Fletcher, an army physician that arrived in Yarmouth in 1762.  Dr. Fletcher's wife was the daughter of John McKinnan and was noted for her literary ability.  LDS has a record of a Mary McKinnon born to John McKinnon and Flora (Lamont) McKinnon.  Dr. Fletcher has the infamous legacy as having discovered a Runic Stone in Yarmouth, supposedly proving that Vikings had landed in North America well before Christopher Columbus.  Nicknamed the Fletcher Stone (Link takes you to an 1892 article by K.G.T. Webster), it unfortunately has all but been proven to be a hoax.  There is more discussion in the book The World's Greatest Unsolved Mysteries by Lionel and Patricia Fanthorp, available in Google Books.
<![if !vml]>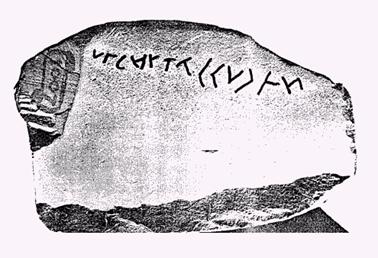 <![endif]>
Supposedly the characters read "Lief to Eric raises this monument" and carries the date 1007.
Another analysis of the stone is at: http://users.eastlink.ca/~oginword/main.htm
Ozzie grew up on Yarmouth, Nova Scotia and as a young man began working as an apprentice seaman, but followed his brother George S. Fletcher to Australia early in 1853.  (See more info about George S. Fletcher immigrating to Australia on the heroic schooner Brilliant on Fannie (Dane) Fletcher's page.)  He only got as far as Cape Town, South Africa when a storm damaged the ship's spars and they were forced to take port.  It was while stranded in South Africa that he met Luisa Wilhelmina Krige and eventually married her at the family farm in Patryskloof.  It is interesting to note that Luisa's younger cousin Sybella Margaretha "Isie" Krige went on to marry Jan Christiaan Smuts, who became Field Marshall Smuts, eventually Prime Minister Smuts, and routed the British at Doornkloof in the 1902 Boer War.  Ozzie and Luisa eventually caught up to the rest of the Fletcher family in Melbourne, Australia. 
Ozzie continued with his seafaring, eventually signing on as 2nd Mate with the groundbreaking English Steamship Great Britain.  It was during this employ in 1859 that Ozzie had yet another brush with history, namely the infestation of rabbits in Australia.  The story goes that it was our Mr. Fletcher that signed the bill of lading for the 24 rabbits ordered by Thomas Austin, therefore approving them to be delivered to Australia.  It was this Thomas Austin who later released these rabbits into the wild and they reproduced like, well, rabbits.  My wife's Father-in-Law, Howard Hardesty, who is a descendant of the Fletchers on his mother's side, shares that Ozzie Fletcher made the following comment when asked about the rabbits, "I had no idea." 
<![if !vml]>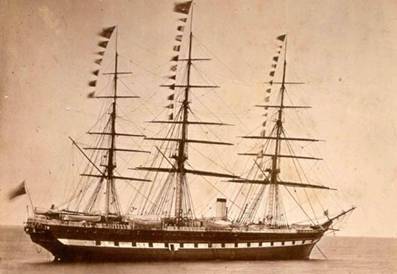 <![endif]>     <![if !vml]>
<![endif]>
Left: The Steamship Great Britain.  For more information please go to: http://www.ssgreatbritain.org/BriefHistory.aspx
Right: A European rabbit in Tasmania, Australia. (Image taken from Wiki-pedia.)
The ss Great Britain made a name for itself voyaging all over the world, from Hong Kong to the Falklands.  However, Ozzie yearned to stay closer to home, so in mid-1860 left for a much smaller vessel, the sloop Elk which only stayed in Australian waters.  At about this same time, rumors were prevalent about gold being found in Australia's interior.  With much anticipation and hopes of hearing about gold, the Elk was hired to go to the Gulf of Carpenteria on the north coast of Australia near Wellesley and wait for the Burke and Wills expedition.  Unfortunately, mostly because of inept leadership, this south to north expedition to explore Australia's inland regions never reaches the north coast.  They had to stop almost within sight of the coast and turn back because of impassable mangrove swamps.  The Elk's crew, hoping for news of gold, ended up with nothing except word of another government contract that sent them to run supplies for HMS Caroline being sent to help with the outbreak of Maori tribal hostilities of New Zealand's Taranaki Province.  Later, they were transferred to Auckland, New Zealand where the Elk was chiefly used as a despatch-boat. I can find no record of her being engaged in any action. Her commission ended on the October 12th, 1863, and she was sold out of the service, the purchaser being Captain Davidson.
<![if !vml]>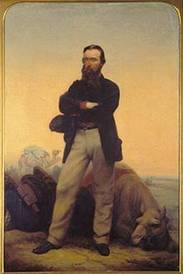 <![endif]>     <![if !vml]>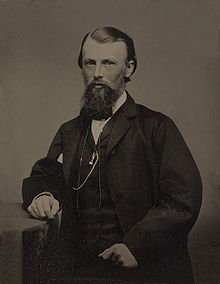 <![endif]>
Robert O'Hara Burke and William John Wells, leaders of the failed expedition.
(Images taken from Wiki-pedia.)
During this extended period away, Ozzie's wife Luisa must have lost her hope for a happy marriage and divorced him.  Having lost his wife, no children, and little money, Ozzie next tried to pursue the rumors of gold, but got no further than the coastal community of Maroochydore.  Family oral tradition tells us the story that Ozzie, while drunk on the beach, stripped down nude, and fell asleep on the night of April 1, 1864.  Ozzie's lifeless body was found, having died from exposure.  To this day, there is a history of nudism in Maroochydore, including large numbers on Alexandria Bay for the Annual Nude Olympics.  The Sunshine Coast Daily has this interesting article related to area Nudism: http://www.sunshinecoastdaily.com.au/story/2008/04/29/nudists-exposure-charge-dismissed/
<![if !vml]>
<![endif]>
Maroochydore sunbathers rejoice in their freedom.
Back to the Genealogy Main Page
April Fools!   Richard "Ozzie" Osbourne Fletcher is a work of fiction, though the page is laced with many interesting real, though unrelated, facts. 
Please be reassured that the rest of my genealogy site is serious and is as accurate as I can possibly make it. 
Thanks,
Jim
4/1/2010.