Lewis Albert Briggs
    

1845-1923

<![if !vml]>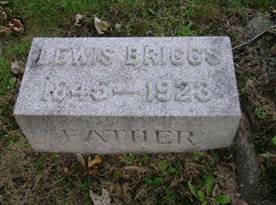 <![endif]>
Born:   January 21, 1845 in Ogdensburg, New York.
Died:   May 23, 1923 in Chicago, Illinois.  Buried in Riverside Cemetery in Appleton, Wisconsin, Lot 81, Block D. 
<![if !vml]>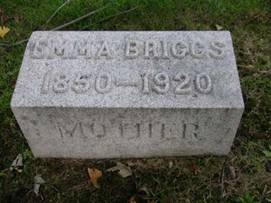 <![endif]>
Spouse:  Emma E. (Bennett) Briggs m. December 16, 1868.  They repeated their vows on April 16, 1869.
`           Her father performed the ceremony.(See below)
Children:         Emory Theodore Briggs (See below)
Calphurnia R. Briggs  (As per Appleton City Directory)
                        Laura A. Briggs  (As per Appleton City Directory)
                        Fern Briggs (b. July 6, 1886 in Appleton. Likely married surname Meyer of Appleton, Wisconsin.)  
                                    The next is not verified…
Albert Briggs (b. 1897, who m. Mary M. Molitor of Little Chute, Wisconsin in 1926.  Mary d. April, 2006 at the age of 103.)
Occupation:  Fruit Culturist
Soldier, musician.  (See below.) 
Mail Agent with Milwaukee, Lake Shore & Western Railroad after the war.
Father's name:          Robert Cornell Briggs                                  
Mother's name:         Mary Cutler (Banister) Briggs
Siblings:         Theodore Wood Briggs
                        Rozella Marinda Briggs
                        Abigail Seraph Briggs
                        Almira Lucretia Briggs
Lewis served with the Wisconsin Volunteers, 2nd Regiment, 6th Infantry, Company E, known as the Iron Brigade.  He enlisted at the age of 16 on December 16, 1861, showing Oshkosh as his place of residence.  He served as a private until being promoted on May, 19, 1863 to 2nd Principal Musician as a fifer.  He was transferred to Independent Battalion, 2nd Infantry, Company A  June 10, 1864.   (The Veterans' Graves Registration confused the "Ind" abbreviation at this point to mean Indiana rather than "Independent".)  Then he was shifted to the Field and Staff on September 1, 1864 and transferred again to Company G, 6th Wisconsin Infantry on November 30, 1864.  Interestingly, his discharge date is listed as unknown.  Also serving in the war were Daniel Briggs and Robert C. Briggs, his uncle and cousin respectively.
The photo below is drummer Hiram S. Ming with fifer Lewis A Briggs, Co. E. 2nd Wis. Infantry in Fredricksburg, VA dated July 1862.  From Appleton Public Library, Fox Valley Memories.
<![if !vml]>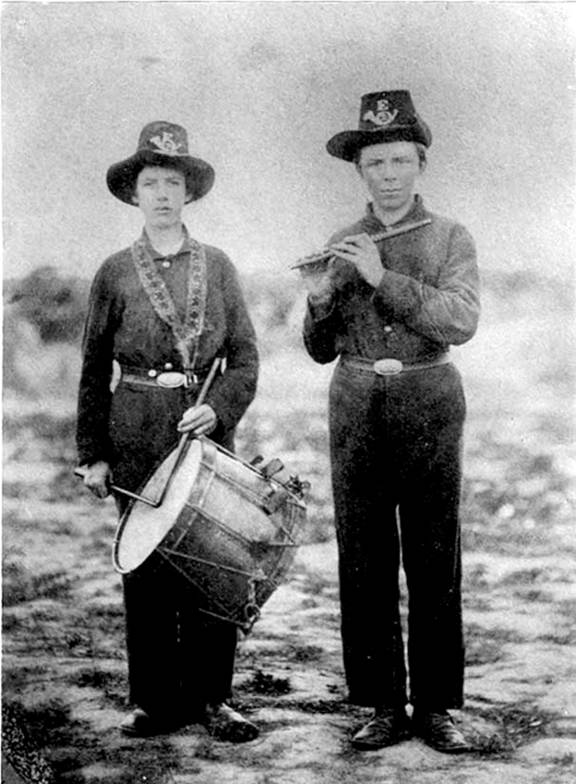 <![endif]>
<![if !vml]>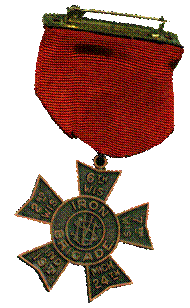 <![endif]>     <![if !vml]>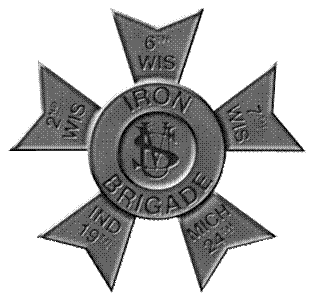 <![endif]>
<![if !vml]>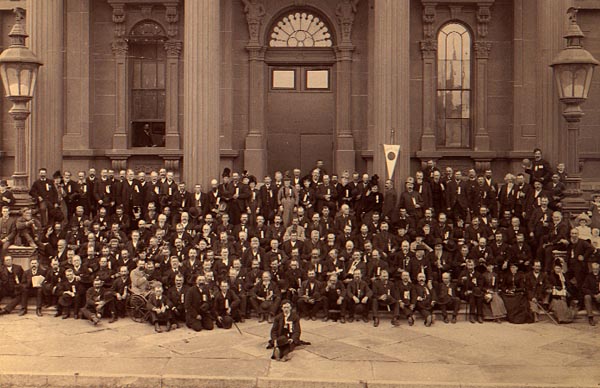 <![endif]>
Reunion Photo taken in Madison, Wisconsin. (I have not been able to identify Lewis in it.)
He last residence was 663 Morrison St. in Appleton, Wisconsin. 
1889 Appleton City Directory shows him at 1497 Spencer while working at the MLS&W RR as a Mail Agent.
The 1910 Directory shows him living at 687 Oneida St.
City Directories and Civil War records flip flop as to the spelling of the first name.  I've seen it as both Louis and Lewis.  The vital records use Lewis.  However, his death certificate reads Albert as father instead of Robert.  That is an error.
Emory Theodore Briggs was b. December 26, 1871 in Appleton, Wisconsin and d. April7, 1926 in North Tanawanda, New York.  He is buried next to his parents in Riverside Cemetery, but there is no marker.   According to the Transit Label, the Corpse was escorted by a Lewis Richard Briggs of 451 2nd St., Niagara Falls, NY.  Lewis Richard Briggs was Emory's son.  Lewis was b. August 13, 1903 in Oconto Falls, Wisconsin and d. in an automobile accident on April 29, 1932 in Port Edwards, Wisconsin where he worked at the International Paper Mills.  Emory also had a daughter, Katherine Bennett Briggs, b. August 13, 1898 in Appleton, Wisconsin.  Emory's wife was Emma Bertha (Miller) Briggs, b. July 4, 1875 and d. July 7, 1916, from Stephensville, Wisconsin daughter of Richard Miller and Mary (Gratz) Miller both of Germany.  Emory was a railroad engineer.
Emma (Bennett) Briggs was born September 8, 1850 in Platteville, Wisconsin.  Her parents were Rev. P. S. Bennett and Calphurnia (Chase) Bennett, both of New York state, and she died August 29, 1920 in Chicago, Illinois.  Emma is also buried in Riverside Cemetery in Appleton, Wisconsin, Lot 81, Block D.  Emma's father, Rev. P. S. Bennett was born March 13, 1817 and died April 5, 1895.  He was the Lot Owner where the family is buried in Riverside, including his wife and a son.  His wife, Calphurnia (Chase) Bennett, was born February 6, 1817 in Gorham, New York to Joseph and Mary Chase.  There is a plague from the Daughters of the American Revolution (DAR) that additionally marks her grave.  (I have not pursued her history, so I do not have any further details.)  The son is Emory James Bennett.  He was born December 23, 1848 and died January 9, 1864.
An item of confusion is a 7 year boy buried next to Emory James Bennett (grave # 3) noted as grave # 3A.  Riverside Cemetery has very little information about this boy.  They do have the dates: born December 31, 1866 and died July 14, 1873.  Penciled next to those dates are the initials "F. J.", later was added "Fred Bennett."  Is it possible that this might actually be Theodore W. Briggs' 1st son to die, 7 yr old Fred J. Briggs?  Theodore's family lot at Riverside Cemetery had not been purchased yet.  So did he use space in his brother Lewis Briggs' lot, which is actually owned by Rev. P. S. Bennett? 
Back to the Genealogy Main Page